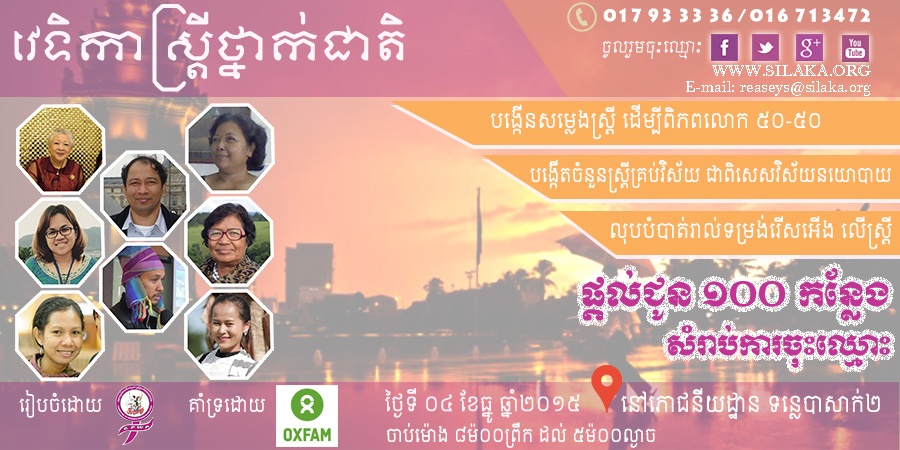 The Committee to Promote Women in Politics which called in short "CPWP" is announced and opened free 100 seats for online register to join the "National Women Forum" on 04 December 2015 at Tonle Bassac II, starting from 8:00am to 4:30 pm. Your register will get free a new tote bag.
CPWP has been committed to promote women's equal participation and representation in public office. CPWP are comprised of seven core member organizations, they are: SILAKA, Gender and Development Cambodia (GADC), Committee for Free & Fair Elections in Cambodia (COMFREL), Neutral &Impartial Committee for Free & Fair Election in Cambodia (NICFEC), Women Media Center (WMC), PADEK, DPA; and three associate members, Strey Khmer, CADOC and AMARA.
The National Women Forum will be conducted in purposes to create a peaceful space for women from diversity and different sectors to raise up their voices and their concerns for bringing up to policy makers; to analyze the roots of discrimination against women in politics; and to open a peaceful space for linking between Cambodian women leader at sub-national with Cambodian women leaders at national level and Cambodian policy makers.
Notice that SILAKA is the secretariat of Committee to Promote Women in Politics (CPWP).
Online register: http://goo.gl/forms/fiy6JEPbyt
For more information, please contact to Ms. Reasey SENG, Coordinator of CPWP; Tel: 017 93 33 36 | 016 71 34 72
or email to reaseys@silaka.org
Download Agenda  Khmer — English  | 
Download Concept Note Khmer — English |